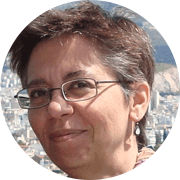 Veterinarian (DVM-1987, PhD-1993). Senior Researcher in Veterinary Research Institute.
Tel Nr +30 2310781136 (ext 0-136)
e-mail: samartzi@vri.gr
Research topics: Domestic animal reproduction and particularly: oestrus cycle control, superovulation, embryo transfer, IVM-IVF-IVC, gamete and embryo cryopreservation.
Research projects: Participant in a total of 21 international and Greek research projects. Coordinator in one international project ("indi-sheep trade-cheese" - SEE-ERA.NET Plus - Ref No ERA83); scientific leader in 3 more and team leader in 1 more project.
Publications: A total of 28 full papers in International and Greek scientific journals and in congress proceedings, 48 presentations / abstracts in International and Greek conferences, 4 book chapters and 3 chapters in textbooks; 240 citations in Web of Knowledge and/or Scopus.

Curriculum Vitae
RESEARCHERS